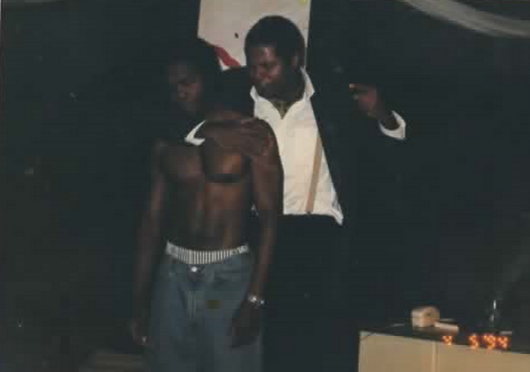 Exactly Two Decades Ago, Actor / Director Darryl Maximilian Robinson as Andrew Wyke and Actor Sean Nix as Milo Tindle Made Chicago Theatre History When They Starred As The First All African-American Cast In The 2000 Excaliber Shakespeare Company 30th Anniversary Revival of Anthony Shaffer's Tony Award-winning Best Play Sleuth At The Harrison Street Galleries Studio Theatre in Oak Park, IL.Edit
"There is more than one mystery going on in The Excaliber Shakespeare Company's production of "Sleuth," now being performed in Oak Park. And we're not just talking about the script of Anthony Shaffer's Tony Award-winning play. At last Friday night's show, there were only two actors onstage: Darryl Maximilian Robinson as Andrew Wyke and Sean Nix as Milo Tindle. Yet the program lists a total of five characters played by five different actors...In any case, none of this matters a bit because Robinson could have easily played all five characters without batting an eyelash. If you've never seen Robinson in action, he is a veritable one-man-show all by himself. You owe it to yourself to check out this performance because he's at the top of his game in a delightfully witty play that is, as they say, an actor's dream...Since both Nix and Robinson are African American actors, this adds yet another dimension to the mix." -- Michael Bonesteel, The Pioneer Press Oak Leaves, Oct. 25, 2000.

One of the best young actors Darryl Maximilian Robinson ever had the pleasure to direct and act with was Mr. Sean Nix. In a 2000 Excaliber Shakespeare Company of Chicago 30th Anniversary Revival Production of British playwright Anthony Shaffer's Tony Award-winning Best Play Sleuth, both Mr. Nix as Milo Tindle and Mr. Robinson as Andrew Wyke got to display their full range of acting skills while playing the ultimate cat-and-mouse game...for keeps. The revival also made history as the FIRST DOCUMENTED STAGING OF "SLEUTH" WITH AN ALL AFRICAN-AMERICAN CAST! This ESC production was greatly assisted by the professional work and efforts of veteran theatre artist, Mr. L. C. Satterfield, who served as a Co-Designer, Production Stage Manager and Technical Director for Shaffer's marvelous, clever and witty play!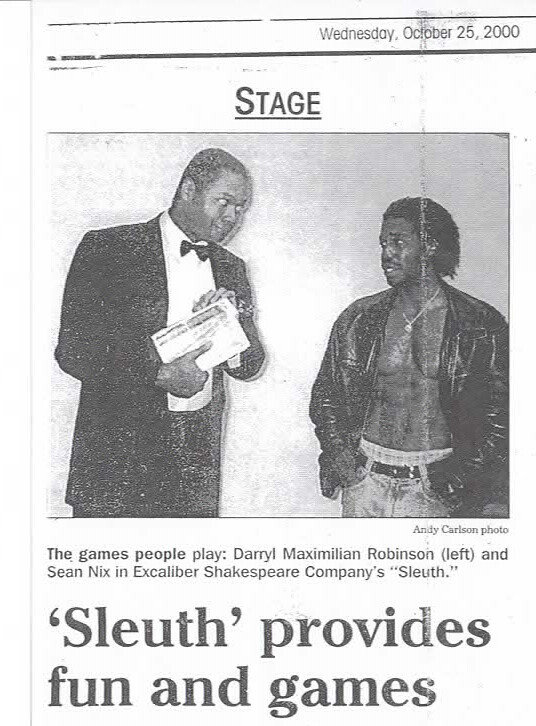 Having previously played Andrew Wyke when he made his Chicago directorial debut in 1980 with a non-Equity professional, multiracial cast ( 10th anniversary ) version performed by his short-lived New Chicago Repertory Theatre Company at St. Luke's Lutheran Church in the Windy City's Logan Square neighborhood, Excaliber Shakespeare Company of Chicago Founder, Artistic Director and Joseph Jefferson Citation Award-winning Principal Actor Darryl Maximilian Robinson thought Shaffer's wonderfully witty cat-and-mouse-game thriller would work well in the intimate confines of The Harrison Street Galleries Studio Theatre in Oak Park, Il. for a fall 2000, 30th anniversary revival run. And returning to directing the play and playing Andrew Wyke, he found a talented young actor with strong stage presence named Sean Nix to join him onstage as Milo Tindle. The initial run did well, audiences responded very positively throughout the run ( which was extended ). And, without anyone involved in the show really realizing it at the time, Darryl Maximilian Robinson's non-Equity professional Excaliber Shakespeare Company of Chicago staging of Anthony Shaffer's Sleuth became the first production documented in theatre history to feature an all African-American cast.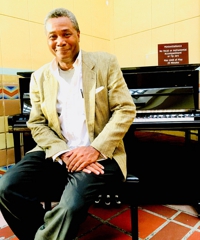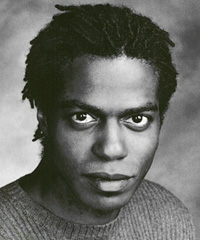 EXCALIBER HOPES TO FIND ITS SLICE OF THE AUDIENCE IN OAK PARK
Edit
By H. Lee Murphy. Special to the Tribune
CHICAGO TRIBUNE
November 3, 2000   
In the years since its launch in a North Side pub in 1987, the Excaliber Shakespeare Company has moved around so often that the group has hardly had a chance to gain an audience following. Now, however, Excaliber is putting roots down in Oak Park, in the burgeoning arts colony on Harrison Street, with the promise of staying around awhile.
The current revival of Anthony Shaffer's thriller "Sleuth" was originally scheduled to close in the storefront studio theater of the Harrison Street Galleries on Sunday, but big crowds -- big being a relative term, since the space has seating for only 40 people -- have encouraged Excaliber to extend the run through Nov. 19. After that the group is to present a revival of J.B. Priestly's "An Inspector Calls," opening Nov. 24 and running through Dec. 23.
Actually Excaliber's long odyssey -- the group started at Chicago's Red Lion Pub before transferring to St. Louis for five years in the early '90s and later returning here to perform at colleges, restaurants and park fieldhouses -- reflects to a large extent the wanderlust of its founder and artistic director, Darryl Maximilian Robinson, who is both director and star of "Sleuth" and the guiding light behind Excaliber.
"We just haven't been able to find a permanent space to do our work," admits Robinson, who is hampered by meager budgets. "But we've been in Oak Park a year now, and people are beginning to learn about us and they seem to like the work we're doing. This is our home, and we plan to stay as long as this space is available to us." A native of the West Side, the 40-year-old Robinson got his start as a high schooler performing for the Chicagoland Theatrical Troupe in the mid-1970s. After that he served a couple of years touring the country with the National Shakespeare Conservatory and played summer stock at the Enchanted Hills Playhouse in Syracuse, Ind. His roles ranged from the lead in "Othello" to Colonel Pickering in "My Fair Lady." Excaliber was initially meant to be a Shakespeare showcase, with Robinson performing in a one-man production called "A Bit of the Bard" -- basically an assemblage of famous dialogue from the comedies and tragedies -- around Chicago in the early years.Always the group was on the move. Robinson performed a one-man Dylan Thomas show at Cafe Voltaire in 1996 and a year later won awards for a production of Athol Fugard's "Master Harold ... and the Boys" at the Heartland Cafe on the North Side. Last January, Robinson drew notice for an ambitious 40th anniversary production in Oak Park of Edward Albee's "Zoo Story" with a different cast each week. That was followed by a revival of Eugene Ionesco's "Rhinoceros" in May.
Perhaps best remembered as an acting tour de force for Laurence Olivier and Michael Caine in the 1972 film version, "Sleuth" is a cat-and-mouse mystery involving an older writer of detective stories, Andrew Wyke, who has lured his estranged wife's lover, Milo Tindle, to his baronial English countryside estate for a long night of clever games that turn increasingly diabolical and dangerous. Robinson fills the role of Wyke, a part that he first played in a small-budget "Sleuth" in a basement theater in the Logan Square neighborhood of Chicago 20 years ago. Sean Nix plays opposite him as Tindle.
It was 30 years ago that "Sleuth" opened in both London and on Broadway, and so Robinson views his current revival as a double anniversary of sorts. "I've always been dazzled by the language of the play and the twists in the plot. We've got an intimate space here and a two-character drama like this is perfect for our stage," Robinson says. Anthony Shaffer's "Sleuth" continues through Nov. 19 at the Harrison Street Galleries Studio Theatre, 208 W. Harrison St., Oak Park. For tickets, call 773-533-0285.

https://www.chicagotribune.com/news/ct-xpm-2000-11-03-0011030226-story.html
http://www.abouttheartists.com/productions/100328-sleuth-at-the-harrison-street-galleries-studio-theatre-2000
https://www.broadwayworld.com/people/bio/Darryl-Maximilian-Robinson/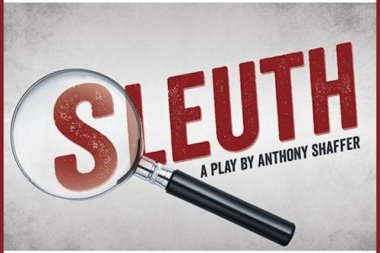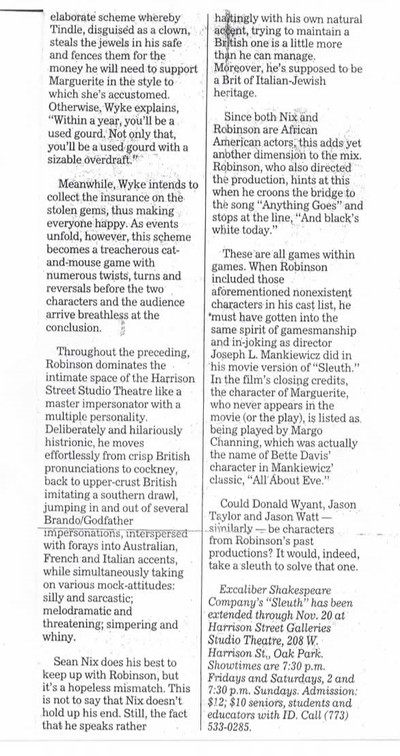 Community content is available under
CC-BY-SA
unless otherwise noted.