With The Role Of The Old Shakespearean Actor Henry Albertson In Tom Jones' and Harvey Schmidt's The Fantasticks Darryl Maximilian Robinson Made Both His Hollywood And Greater Los Angeles Area Stage Debut!Edit
"The cast hits their stride in Act 1 with 'It Depends on What You Pay.' It's Just about that time that Darryl Maximilian Robinson gives the show a shot in the arm with his high-energy, over the top Henry. Robinson is a comedian, clearly comfortable on the stage and well trained. His Henry is quite simply a hoot and expertly delivered." -- Bree Long, LA Theatre Review.com / The Hollywood Fringe Daily Rag, Day Three, Saturday June 19, 2010. 

"Additionally, the production offers a delightful comic duo of Henry ( Darryl Maximilian Robinson ) and Mortima ( Stacy Lynn Baker ), who portray the hopelessly inept two-person acting troupe reminiscent of the craftsmen in Shakespeare's A Midsummer Night's Dream. It was always disappointing when Henry and Mortima had to exit, as their mutual rapport was outstanding to watch." -- Kyra Oser, The Los Angeles Budget Theatre Exaiminer, Friday July 2, 2010. 
A testament to Tom Jones' ( Book and Lyrics ) and Harvey Schmidt's ( Musical Score ) intimate, classic, romantic musical The Fantasticks' staying and playing power occurred during the late spring and summer of 2010 when a talented young theatre ensemble called The Tribe Productions presented a Hollywood Fringe Festival 50th Anniversary Revival Production of the acclaimed theatre piece at The Complex Theatre in Los Angeles. The revival, directed by Christopher Chase, with musical direction by Tiffany Oliver, featured skilled actor / singer Christopher Karbo as The Narrator, El Gallo, the lovely and talented Madison Mitchell as The Girl, Luisa, physically-amazing actress Setareh Khatibi as The Mute, and in his Hollywood and Greater Los Angeles stage debut, Chicago Joseph Jefferson Citation Award Winner Darryl Maximilian Robinson appeared as the old Shakespearean actor Henry Albertson opposite talented young comic actress Stacy Lynn Baker as Mortima ( in this production aka Mortimer, "The Woman Who Dies" ). The Tribe Productions' 2010 Hollywood Fringe Festival 50th Anniversary Revival Production of The Fantasticks earned a Festival Nomination as "Best of Fringe" as well as fine notices in the June 19, 2010 LA Theatre Review.Com / Hollywood Fringe Daily Rag and the July 2, 2010 Los Angeles Budget Theatre Exaiminer. And, in the great tradition of the role of Henry Albertson, veteran and award-winning stage actor and play director Darryl Maximilian Robinson is pleased to share with you "The Clippings"!

https://www.hollywoodfringe.org/learn/content/271 

http://www.abouttheartists.com/productions/100368-the-fantasticks-at-the-complex-theatres-2010

https://www.broadwayworld.com/los-angeles/article/Darryl-Maximilian-Robinson-Returns-For-A-Visit-On-THE-ACTORS-CHOICE-20191212

https://musicalsinla.blogspot.com/2010/06/fantasticks.html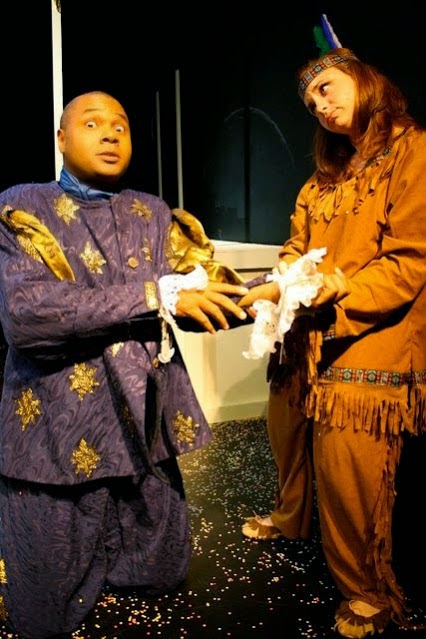 CLASSIC SHOW CARD LOGO OF "THE FANTASTICKS".
Community content is available under
CC-BY-SA
unless otherwise noted.