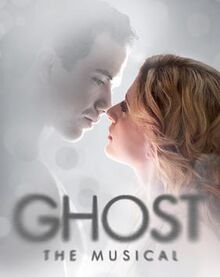 Ghost The Musical is a musical with book and lyrics by Bruce Joel Rubin and music and lyrics by Dave Stewart and Glen Ballard. Based on the hit 1990 romantic drama film of the same name, the musical had its world premiere at the Manchester Opera House in Manchester in March 2011. Ghost then began its West End premiere in summer 2011, opening on 19 July.[1][2] A Broadway transfer opened in April 2012. It will be touring the UK in 2013, after the London production closed in October 2012.
The plot centres on lovers Sam and Molly, who are attacked as they are returning to their apartment. When Sam dies he becomes caught between the real world and the next. Molly is in danger and Sam cannot leave her. A medium, Oda Mae Brown, helps Sam to get in touch with Molly to warn her.
Productions
[
]
Manchester (2011)
[
]
The musical had a world premiere try-out at the Manchester Opera House, Manchester, England with performances beginning 28 March 2011 and running through 14 May 2011. It was directed by Tony Award-winning director Matthew Warchus, with set and costume design by Rob Howell, choreography by Ashley Wallen, musical supervision and arrangements by Christopher Nightingale, illusions by Paul Kieve, lighting by Hugh Vanstone, sound design by Bobby Aitken and projection design by Jon Driscoll.[2][3]
Cast members included Richard Fleeshman as Sam Wheat, Caissie Levy as Molly Jensen, Sharon D. Clarke as Oda Mae Brown and Andrew Langtree as Carl Bruner.
West End (2011-12)
[
]
Again under the direction of Warchus, the musical began previews at the Piccadilly Theatre in the West End on 24 June 2011. The official opening night gala performance took place on 19 July. Reviews for the opening night performance were mixed, although the special effects were praised by critics for their ingenuity and skill. Beginning 13 January 2012, Mark Evans and Siobhan Dillon took over in the leading roles, allowing time for original cast members Fleeshman and Levy to begin rehearsals for the original Broadway production. Other cast replacements during the run included Craig Stein and Scott Maurice as the Subway Ghost and Ashley Knight as the Hospital Ghost.
On 15 June 2012, after weeks of speculation, it was officially announced that the production would close on 6 October 2012. It closed that day after just over 500 regular performances.[4]
Broadway (2012)
[
]
The musical began on Broadway at the Lunt-Fontanne Theatre in previews on 15 March 2012, with the official opening on 23 April.[5] Directed by Matthew Warchus, original stars Richard Fleeshman and Caissie Levy reprise their roles, with newcomers Da'Vine Joy Randolph (Oda Mae) and Bryce Pinkham (Carl). In preparation for her Broadway debut, Randolph played the role in the West End in December 2011 and January 2012, when regular actress Sharon D. Clarke was on leave.
According to Levy, "[For the Broadway production], emotional moments in the show have been fine-tuned, a line or two has been changed here or there...a couple of songs have been replaced, some characters have been tweaked. All for the better."[6] A new "Overture" was added, and "Ball of Wax" has been replaced by a new, but similar song, "You Gotta Let Go".
The production opened to mixed reviews,[7][8][9] although it received three Tony Award nominations. Randolph was nominated for the Outer Critics Circle Award for Outstanding Featured Actress in a Musical, while Hugh Vanstone won the award for Outstanding Lighting Design.[10] It was announced on 24 July 2012, that the Broadway production will close on 18 August 2012. It closed on that date after 136 regular performances. A national tour for fall 2013 has been confirmed.[11]
UK National Tour (2013-)
[
]
The first national tour of the UK was expected to launch at the Cardiff Wales Millennium Centre in previews from 8 April 2013, however, on 18 March 2013, it was announced that both preview performances on 8 and 9 April were cancelled due to technical delays, but the opening night would go ahead. The official opening night was 10 April, with the tour to run in Cardiff through 27 April.[12] Additional venues include the New Wimbledon Theatre, London (30 April–11 May); Edinburgh Playhouse (14 May–1 June); Wolverhampton Grand Theatre (3–15 June); Leeds Grand Theatre (17–29 June); Manchester Opera House, where the show received its world premiere (2–20 July); Nottingham Royal Concert Hall (13–24 August); Bristol Hippodrome (27 August–14 September); Milton Keynes Theatre (16–28 September); Glasgow King's Theatre (1–19 October); Southampton Mayflower (28 October–9 November 2013); Woking New Victoria Theatre (11–23 November); Sunderland Empire (26 November–7 December); Birmingham New Alexandra Theatre (17 December 2013–5 January 2014) and His Majesty's Theatre, Aberdeen (21 January–8 February).
Rehearsals for the show began on 4 March, when casting was also confirmed via the tour's Official Twitter account. London understudy Rebecca Trehearn steps into the role of Molly, with Stewart Clarke as Sam, Wendy Mae Brown as Oda Mae and David Roberts as Carl.[13] The show premiered in Cardiff on 10 April 2013 and despite some technical faults, opened to postive reviews.Template:CN It has since been better received than the short-lived London production.Template:CN
US National Tour (2013-)
[
]
The North American tour will launch in Schenectady, NY at the Proctors Theater beginning 14 September 2013, with casting to be announced.[14]
Subsequent productions
[
]
The Netherlands (Postponed)
The first non-English language production was set to begin previews on 28 August 2012, at the Beatrix Theatre in Utrecht in the Netherlands, with the opening night on 9 September. The Dutch cast was set to include Ton Sieben as Sam Wheat, Celinde Schoenmaker as Molly Jensen, Freek Bartels as Carl Bruner and Joanne Telesford as Oda Mae Brown. It has since been postponed due to the "shorter [than expected] seasons in the U.K. and the U.S." producers announced.
Melbourne (Postponed)
A debut season in Melbourne, Australia had been confirmed to open in August 2013. However, producers reported on 6 September 2012, that plans for the production have been delayed due to the "shorter [than expected] seasons in the U.K. and the U.S.". Revised dates have not been announced.[15]
South Korea
A production has been announced for "late 2013" and is to be led by Joo Won as Sam and pop singer Ivy in the role of Molly. It will use the original London production set.
Other
Future productions are being planned for Germany, Sweden, Hungary, Japan, China and Brazil.[11]
Synopsis
[
]
Original London production
[
]
Act I
The musical starts when Sam Wheat and his long-time girlfriend, Molly Jensen, move into a loft apartment in Brooklyn together ("Here Right Now"). Sam is a banker, Molly a sculptor, and their friend Carl Bruner is introduced as one of Sam's co-workers, come to help them settle in. The three of them seem to be a tight-knit group, with Sam and Molly very much in love. However, Sam clearly shies away from the word, which makes Molly visibly uncomfortable. She starts to say something about it, but soon stops herself, and Sam distracts her with a rendition of "Unchained Melody," leaving her insecurities temporarily forgotten.
At work, Sam notices some discrepancies with several accounts and is unwilling to let them go, despite the fact that he has a date with Molly that evening ("More"). He confides in Carl with his discovery, and his friend not only agrees to keep the findings a secret, but promises to investigate himself, so Sam can keep his date. Thanking him, Sam leaves, and meets up with Molly, who later confesses that she wants to marry him. Sam is taken aback and Molly suddenly asks why he never tells her that he loves her ("Three Little Words"); he assures Molly that he doesn't say it in so many words because he prefers to say it through his actions. Molly tells him that she'd still like to hear it every now and again, but his reply reassures her nonetheless. However, they're soon approached by an armed man that tries to steal Sam's wallet. Sam fights back instead of surrendering, and the two struggle for the gun. It goes off and Sam is fatally shot, leaving Molly to cry out for help ("Sam's Murder"). Instead of moving on, however, Sam becomes a ghost, and he stays behind with Molly instead of following the light; unable to leave Molly, he follows her to the hospital, and another ghost explains what he's become ("Ball of Wax"). A trapped Sam struggles to reach out to Molly ("I Can't Breathe").
Back at the apartment, Carl helps Molly clear out some of Sam's old things; clearly, she's hesitant to let go, totally unbeknownst to the fact that Sam is very close by, unable to move on himself. When she's alone, the man that killed Sam sneaks in and begins to ransack the place while Molly is upstairs, forcing Sam into a panic that he'll hurt her, too. Sam manages to spook the man and he flees. Needing to know who he is, Sam pushes himself through the front door with great effort, and follows the man all the way back to his own apartment. He finds out that the man's name is Willie Lopez, and that he'd eventually go back for what he was looking for. Desperate, Sam then seeks out a psychic, Oda Mae Brown, who seems to be a total fraud ("Are You a Believer?"). By some miracle, she actually hears Sam, and he convinces her to go talk to Molly on his behalf - by singing '10,000 Bottles of Beer on the Wall' obnoxiously, no less. In the meantime, Molly is grieving and not taking the loss very well ("With You"). She gets a visit from Oda Mae, but Molly is hesitant to believe, until Oda Mae starts parroting things that only Sam would know. Eventually, she comes around, and agrees to listen. Through Oda Mae, Sam tells her that he was set up, murdered, and that she needs to go to the police; Oda Mae bails as soon as she hears the word. Molly takes this information to Carl, who tells her that it's crazy, but promises to check it out. She goes to the police and Carl goes straight to Willie's place where a distraught Sam discovers the truth, in that his murder was at Carl's own error. As Molly swears to suspend all disbelief, a drunken Carl wonders the streets trying to convince himself it was not his fault ("Suspend My Disbelief/I Had a Life").
Act II
At the police station, it's revealed that Oda Mae has quite the criminal record. Shaken, Molly leaves there with the knowledge that the psychic is a fraud and she loses hope, much to Sam's dismay ("Rain/Hold On"). Molly in her anger sits down to do some pottery as the radio plays. Static is heard and Molly gets up to change to station, as she turns the dial Unchained Melody is suddenly heard. Molly quickly turns off the radio in shock. After a moments pause she turns it back on and slowly returns to her pottery. Sam, who is watching, approaches her from behind singing along, longing for her touch. Just as Molly begins frustrated and starts to lean back as if she can feel Sam, there is a knock on the door. It's Carl. Molly tells Carl that he was right, that the whole thing was crazy, and that she was just grasping at straws. He assures her that it's only natural, but she has to move on, and he even makes a poorly received move on her ("Life Turns on a Dime"). Enraged, Sam manages to break something, and a flustered Molly asks Carl to leave.
With the help of another ghost on the subway, Sam learns how to move objects ("Focus") and returns to Oda Mae's place to enlist her help once more ("Talkin' Bout a Miracle"). Suddenly, Oda Mae is a legitimate psychic, with the ability to call on other spirits instead of resorting to fraud. While Sam is there, Willie Lopez finds her, and she has to run for her life. Sam uses his newfound abilities to spook him and chase him away, but Willie runs into traffic and dies. Unlike Sam, he is not offered a white light, but it's implied that he's dragged somewhere completely different. However, Sam knows that it isn't over, and he begs Oda Mae to help him stop Carl from getting to the money, in order to protect Molly.
We then see Molly, trying to get her life together and move on ("Nothing Stops Another Day"); it's seen that she's selling pieces at her gallery and she apologizes to Carl for pushing him away. Carl, meanwhile, is anxiously awaiting a call and waves her off under the guise of having a busy day. Together, Sam and Oda Mae break into the account that Carl was extorting, Sam feeding her account numbers and information while she poses as 'Rita Miller.' The account is closed and Sam goes to find Carl in his office, in a panic. Moving objects around the room, Sam scares Carl, moving objects around again and making it clear that he knows what really happened. Scared, Carl tells Sam that he'll kill Molly if he doesn't leave him alone and get him the money. However, Sam runs back to Oda Mae.
When she's handed a check for around four million dollars, Oda Mae tries to take the money and leave the situation for good ("I'm Outta Here"), but Sam convinces her to donate the money. Sam then takes her to go see Molly again in order to warn her about Carl. At the apartment, Molly tries to send her away at first, but Sam is able to walk through the door and tell Oda Mae the significance of the earrings Molly is wearing, as well as read a letter for Sam that Molly has inside the apartment. After Oda Mae repeats these things, Molly is able to believe again, and she lets the psychic in. She explains everything to Molly, who is clearly emotionally distraught, and Oda Mae even lets Sam use her body to hold Molly and comfort her ("Unchained Melody (Dance)")
Carl comes into the apartment, armed and frightened for his own life; he owes dangerous drug dealers money and he's desperate. Even though it's clear that he doesn't want to resort to such measures, Carl grabs Molly and holds his gun to her, telling Sam that if he doesn't have Oda Mae tell him where the money is, he's going to kill her. There's a struggle, and Carl is killed, and he's dragged away in the same way as Willie.
Now that Carl is gone and Molly is safe, the light returns for Sam and Molly is able to see and hear him. Knowing that it's time for him to go, Sam says goodbye to Oda Mae, and regretfully turns to Molly. They're able to say their goodbyes, Sam finally telling Molly that he loves her in the way that she wants to hear ("The Love Inside").
Musical numbers
[
]
In November 2010, four original songs from the musical were made available online from recording sessions at the Abbey Road Studios and the Manchester Exchange Theatre.[16]
The event was recorded and exclusively screened for fans on Ghost the Musical's Facebook Page on 26 November 2010. The screenings were called 'Live & Unchained: The Facebook Sessions' and gave the world the first chance to hear the original songs. The whole footage is now available on YouTube.[17] The original cast recording was released via iTunes on July 17, 2011. On the album, "Unchained Melody (Reprise)", which is a collaboration of the original song and Sam singing along, was not recorded. "Unchained Melody (Dance)" and "The Love Inside" are edited into one track.
Act I

"Overture" – Orchestra
"Here Right Now" – Molly, Sam, Carl
"Unchained Melody" – Sam
"More" – Carl, Ensemble
"Three Little Words" – Molly, Sam
"Sam's Murder" – Willie, Sam, Molly, Ensemble
"Ball of Wax" – Hospital Ghost, Ensemble≠
"I Can't Breathe" – Sam
"Are You a Believer?" – Clara, Louise, Mrs Santiago, Oda Mae
"With You" – Molly
"Suspend My Disbelief"/"I Had a Life" – Molly, Carl, Sam, Ensemble

Template:Col-break

Act II

"Rain"/"Hold On" – Molly, Sam, Ensemble
"Unchained Melody (Reprise)" - The Righteous Brothers, Sam
"Life Turns On a Dime" – Carl, Molly, Sam
"Focus" – Subway Ghost
"Talkin' 'Bout a Miracle" – Hospital Ghost, Oda Mae, Ensemble
"Nothing Stops Another Day" – Molly
"I'm Outta Here" – Oda Mae, Ensemble
"Unchained Melody (Dance)" – Sam, Molly
"The Love Inside" – Sam, Molly
≠Replaced on Broadway with "You Gotta Let Go".
Principal roles and cast members
[
]
Listed below are the principal performers (of their respective productions) from all major productions of the musical.
Character
Original Manchester Performer
Original West End Performer
Original Broadway Performer
Original UK Tour Performer
Original South Korean Performer
Sam Wheat

Richard Fleeshman

Stewart Clarke
Joo-won
Molly Jensen

Caissie Levy

Rebecca Trehearn
Ivy
Oda Mae Brown

Sharon D. Clarke

Da'Vine Joy Randolph

Wendy Mae Brown
TBA
Carl Bruner

Andrew Langtree

Bryce Pinkham
David Roberts
TBA
Willie Lopez
Ivan De Freitas
Michael Balderrama
Ivan De Freitas
TBA
Subway Ghost

Adebayo Bolaji

Tyler McGee
Stevie Hutchinson
TBA
Hospital Ghost

Mark Pearce

Mark White
Lance Roberts

Template:N/A

TBA
Clara

Lisa Davina Phillip

Moya Angela
Karlene Wray
TBA
Louise
Jenny Fitzpatrick
Carly Hughes
Keisha Atwell
TBA
Notable Cast Replacements
[
]
West End
Lisa Davina Phillip as Oda Mae Brown (November 24, 2011-December 15, 2011; temporary)

Da'Vine Joy Randolph

and Lisa Davina Phillip (alternated) as Oda Mae Brown (December 16, 2011-January 10, 2012; temporary)

Mark Evans

as Sam Wheat (January 13, 2012-)

Siobhan Dillon

as Molly Jensen (January 13, 2012-)
Ashley Knight as Hospital Ghost (February 20, 2012-)
Craig Stein as Subway Ghost (February 20, 2012-July 21, 2012)
Scott Maurice as Subway Ghost (July 23, 2012-)
Critical reception
[
]
Charles Isherwood, in his review of the Broadway production for The New York Times, called the musical a "thrill-free singing theme-park ride" and went on to write that "the show relies mostly on elaborate video imagery, modestly ingenious special effects and the familiarity of its ectoplasmic romance to entertain." Further, he believes that the musical has "innocuous, forgettable pop songs..."[7]
The New York Daily News reviewer wrote that the "gee-whiz illusions (a specter seemingly walks through a door, for instance), lavish light displays and supersized projections are the main attractions of this English import. Without eye-popping tricks, the show offers zip in the way of wonder... [the] book... clunks along. The love story gets swamped by numerous scenes and robotic dance numbers about New York's frantic fast-paced corporate jungle. Some moments seem to exist simply for visuals — Hey, let's use umbrellas!"[8]
In a more positive vein, the "talkinbroadway.com" reviewer wrote "Librettist-lyricist Bruce Joel Rubin ... and composer-lyricists Dave Stewart and Glen Ballard have written one of the finest film-to-stage adaptations in current memory, which Matthew Warchus has directed with energy and passion. Add in a better-than-necessary cast led by U.K. actor Richard Fleeshman and Caissie Levy ... both of whom originated their roles in London, and you have an evening that startles with just how good it is. In relative terms, at any rate. I'm not willing to go as far as saying that this is a great musical, or even an objectively good one... But it positively glows by the standards of all this Broadway season's new offerings and the likes of most other recent movie-inspired outings."[9]
Awards and nominations
[
]
Original London production
[
]
Year
Award
Category
Nominee
Result
2012

Laurence Olivier Award

Best New Musical

Template:Nom

Best Performance in a Supporting Role in a Musical

Sharon D. Clarke

Template:Nom

Best Set Design

Rob Howell

Template:Nom

Best Lighting Design

Hugh Vanstone

Template:Nom

Best Sound Design

Bobby Aitken

Template:Nom
align="center"| 2012 | rowspan="5"| WhatsOnStage.com Awards | colspan="2"| Best New Musical | Template:Nom |- | Best Actor in a Musical | Richard Fleeshman | Template:Won |- | Best Set Design | Rob Howell | Template:Nom |- | Best Lighting Design | Hugh Vanstone | Template:Nom |- | Best Sound Design | Bobby Aitken | Template:Nom |}
Original Broadway production
[
]
Year
Award
Category
Nominee
Result
2012

Tony Award

Best Performance by a Featured Actress in a Musical

Da'Vine Joy Randolph

Template:Nom

Best Scenic Design

Rob Howell and Jon Driscoll

Template:Nom

Best Lighting Design

Hugh Vanstone

Template:Nom

Drama Desk Award

Outstanding Set Design

Jon Driscoll, Rob Howell and

Paul Kieve

Template:Won
Videos
[
]
Trailers
[
]
References
[
]
External links
[
]
Template:Ibdb show

Template:Official website

Template:Facebook

Template:Twitter

Template:YouTube