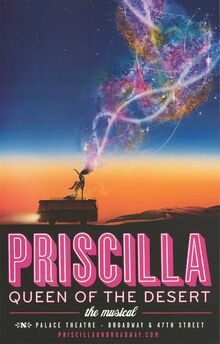 Stage Musical (2006)
Music and Lyrics: Various Artists
Book: Stephan Elliott, Allan Scott
Priscilla, Queen of the Desert is a musical with a book by Australian film director-writer Stephan Elliott and Allan Scott, using well-known pop songs as its score. Adapted from Elliott's 1994 film The Adventures of Priscilla, Queen of the Desert, the musical tells the story of two drag queens and a transgender woman, who contract to perform a drag show at a resort in Alice Springs, a resort town in the remote Australian desert. As they head west from Sydney aboard their lavender bus, Priscilla, the three friends come to the forefront of a comedy of errors, encountering a number of strange characters, as well as incidents of homophobia, while widening comfort zones and finding new horizons.
Produced by Allan Scott in coalition with Back Row Productions, Michael Chugg, Michael Hamlyn and John Frost, the Simon Phillips-directed and Ross Coleman-choreographed original production of Priscilla debuted in Australia at the Lyric Theatre, Sydney in October 2006. Having had a successful run in Sydney, the production transferred to Melbourne in 2007 and then Auckland, New Zealand in 2008, before returning to Sydney for a limited engagement. The Australasian success of Priscilla provoked a two-year strong West End production in addition to its Bette Midler-produced Broadway debut in 2011. While the original production received one out of its seven Helpmann Award nominations, Priscilla was nominated for the Laurence Olivier Award for Best New Musical as well as two Tony Awards, winning these awards in the costume design categories.
Priscilla, Queen of the Desert is considered 'the most successful representation of gay men' in Australian producing history. Priscilla tackles the issue of sexuality and gender. It's praised so highly because it 'challenges traditional Australian ideas of masculinity'[2] . Priscilla defies stereotypes and empowers the LGBTQ community. Focusing on 2 dazzling queer drag queens and a glamorous transgender woman, in a dull and empty desert shows homosexuality being pushed to the brim, but continues to celebrate differences. Priscilla shows the masculinity within these characters by conquering the desert, in full drag. Automatically this challenges the idea that a masculine man is more equipped and instead shows a gay man doing exactly what a straight man can do, while wearing women's clothing. Priscilla continues to praise difference and challenge mainstream society and cultural views. It shows that what society says, isn't always right.
Community content is available under
CC-BY-SA
unless otherwise noted.